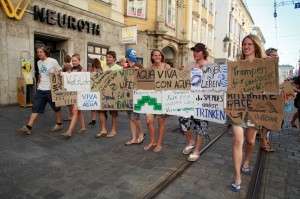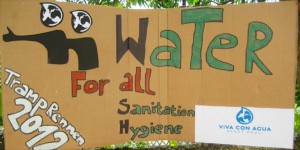 Everything you need to know about donations, PRO ASYL and the WASH-projects of Viva con Agua
What are you raising funds for?
We are raising funds for the NGO's PRO ASYL and Viva con Agua.
PRO ASYL is a non-governmental human rights organisation, which has been working for more than 25 years for refugee's rights in Germany and in Europe. For further information check "About PRO ASYL" or their Website.
Viva Con Agua collects donations and tries to raise awareness for WASH (Water, Sanitation & Hygiene)- projects of the Welthungerhilfe. More information? Visit "About Viva con Agua" or their homepage (in German only).
The donations will be splitted 50 – 50.
How does the donation system work?
To support your favourite team you can become a TeamSponsor or a TeamOwner. Of course, the money of your sponsorship is a donation for PRO ASYL and the WASH-projects of Viva con Agua and does not go to the teams themselves :) If you want to, as a TeamSponsor you can place your name and a short comment on the team's profile page on tramprennen.org, as a TeamOwner you give a minimum of 100 Euros for Viva con Agua and PRO ASYL, as a Thank You, you may place a photo, picture or logo in the team profile which can optionally be linked to a URL of your choice.
Who can become team sponsor?
Everyone! Tramprennen is not about finding one rich dude who sponsors with millions of Euros – it's about taking on board all your friends, family members and people from work or those you just meet every day into the race with a little donation.
I don't know any participants (yet) but like to donate anyways!
Don't worry. Just look for a friendly team (at a pinch just pick one randomly) and become it's team sponsor! They will appreciate your support and be motivated!
How is the donation process working?
After you decided to become a TeamSponsor and gave us the important information, you'll get a link to our project on "Betterplace.org". At our partner Betterplace you can enter the amount and the method of payment. They offer payment by credit cards, PayPal and SEPA direct debit. Betterplace is a non-profit corporation which transfers all the donations directly to PRO ASYL and Viva con Agua after the race. If needed, they'll issue a donation receipt (according to the requirements of German Finanzämter) as well.
What methods of payment are available?
At Betterplace you can donate using credit cards, PayPal or SEPA direct debit.
Additionally you can just transfer your donation to Viva con Agua and/or PRO ASYL:
PRO ASYL
Recipient: Förderverein PRO ASYL e.V.
IBAN: DE62 3702 0500 0008 0473 00
BIC: BFSWDE33XXX
Viva con Agua
Recipient: Viva con Agua de Sankt Pauli e.V.
IBAN: DE58 2005 0550 1268 1351 81
BIC: HASPDEHHXXX