Big Toe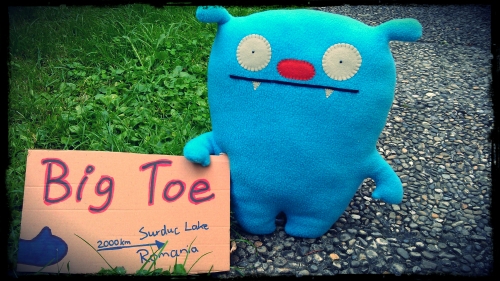 Two weeks through Europe by thumb. Why?
---
Why should a lift take us along?
---
Our best Autostop-experience so far
---
Our goal for the race
---
For a Donation we would...
---
Michi (35)
Katharina (31)
Marlene (32)

Current Race Rank: 11
Current Route Rank: 3
Big Toe hat dir ein großes Talent voraus: Er hat niemals kalte Füße. Das liegt allerdings nicht an dem extrem wahnsinnigen Stoffwechsel, sondern daran, dass er überhaupt keine Füße besitzt, sondern nur große Zehen.

In seiner Jugend war er eine weltweit gefeierte Ballerina.

Nach einem Auftritt in der transsylvanischen Staatsoper wurde er jedoch von einem als Pizzamann verkleideten Vampir gebissen, so dass ihm diese beiden mittelgroßen Fangzähne wuchsen und er nicht mehr vor Mitternacht über die Bühne schweben konnte, ohne umgehend zu Staub zu zerfallen. Seinen zweiten Sommer verbringt der Geselle nun auf den Spuren seiner eigenen Geschichte....

Big Toe ist sehr beschäftigt, aber er hat alles unter Kontrolle.

Big Toe wirkt vielleicht ein wenig langsam... bis du merkst, dass sie immer einen Schritt voraus sind.

Sind das die Überreste vom Picknick? Aufgegessen.

Das lachend vorbeifahrende Team eben? Überholt.

Eine unaufhaltsame Lawine an Wissen verbunden mit den neuesten Infos.

Big Toe weiß immer, was los ist.

Teamsponsoren für das Wasser und Sanitärprojekt von Viva con Agua und Welthungerhilfe willkommen!

--

Big Toe is very busy, but he's going to take care of everything. Just watch. At first Big Toe may seem a little slow... until you realize he's always one step ahead. Those donuts you were saving for tomorrow? Gone. Those leftovers from the picnic? Done. This other team laughing while getting in the car? Passed! Big Toe's on top of things! An unstoppable force of knowledge, Big Toe's got the scoop on all the latest info, and knows what's going down at all times... Except for when it comes to you. What's up with you? Big Toe wants to know.

Teamsponsors for the water and sanitation project in India are welcome!


Ticker messages
No messages sent yet...
Team Owner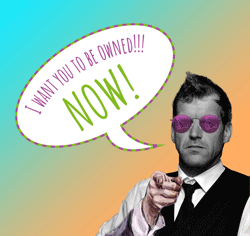 No Owner yet.
You can be a Owner after the donation process has been started!
Team Sponsors
You can be a Sponsor after the donation process has been started!