Good Morning, Sunshine!
5 weeks until the 6th Edition of Tramprennen starts!
This is what happened and happens in the previous and next days and weeks.
I. DFDS Team on route Toad: Get the last remaining slot
You've probably been a bit confused why there are only 11 of 12 possible teams on our ferry route "Toad", but you couldn't choose the last remaining slot for your team. Well, this year we have a very special cooperation with the ferry company DFDS Seaways, who sponsors around 35 ferry tickets and donates 1 Euro per hitchhiked Kilometer to the WASH-Projects of Viva con Agua. And here is the clue: The team, which will be hitchhiking for 1 Euro/km will be chosen by DFDS.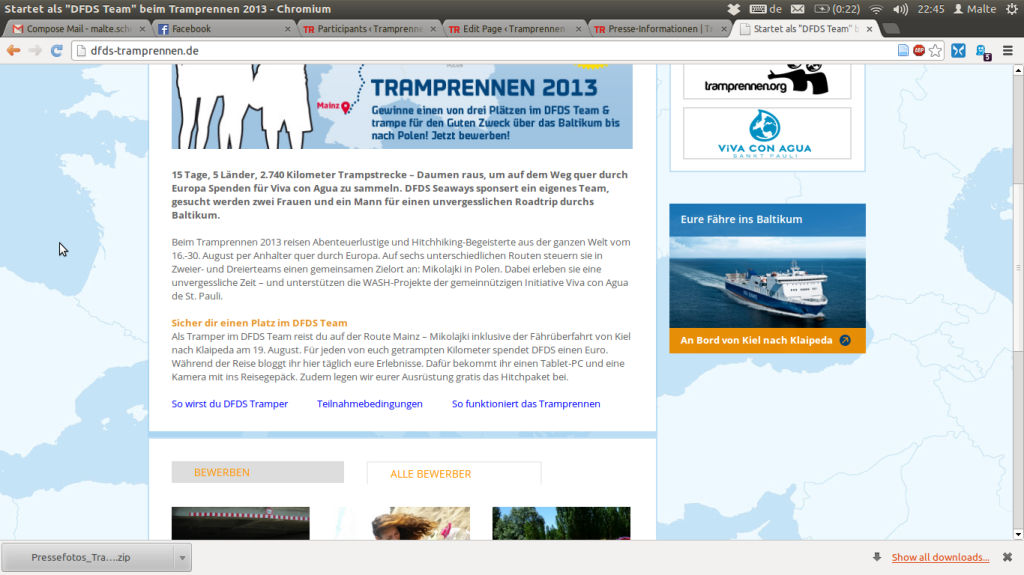 If you absolutely wanna hitch on that route, you can apply for the last remaining slot and become part of the "DFDS Team". For further information just follow this link: https://www.ahoi-reiseberichte.de/dfds-tramprennen-team/
II. Donation Counter fills up!
The Donation Counter fills up constantly. Earlier than never before in the history of Tramprennen! A big thank you and THUMBS UP to every team who already got TeamSponsors or even TeamOwners! So far 152.5 thumbs are supporting us on the way to Poland!! We're curious how many more digital hitchhikers will follow!!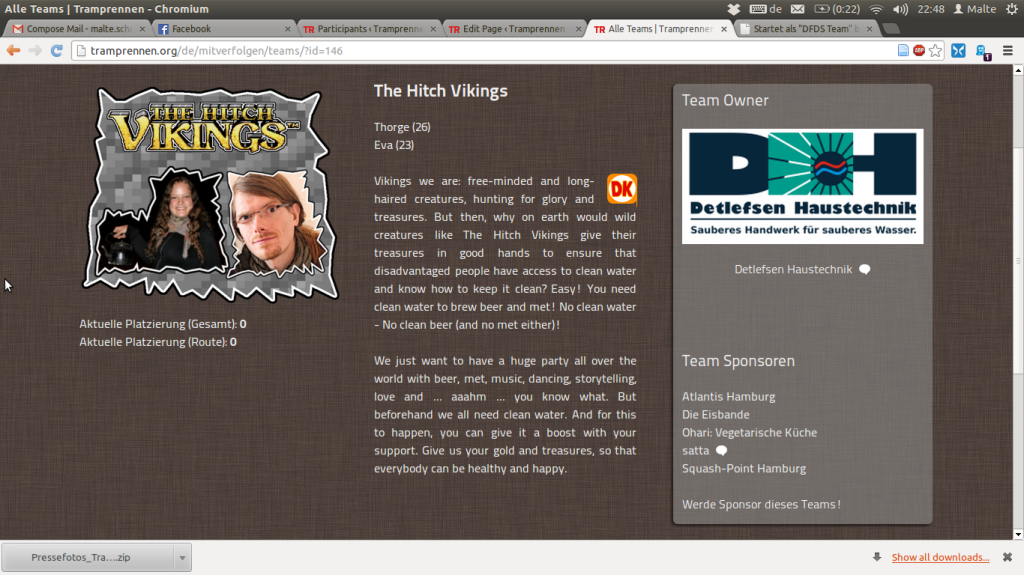 Especially the HitchVikings from Route DonkyKong are doing a great job!! :)
III. Routes are filling up
For now we have 46 out of 72 confirmed teams. Another 22 teams are in the pipeline and still need to hand in some Homework. This means: 68/72 Teams. We expect to be full this year! Awesome!! Just as a hint: Due to missing capacities we're not gonna open a seventh route. So if you wanna join Tramprennen 2013, you'd better be fast ;)
IV. Soap Bubbles.
Don't forget to get your soap bubble machine. It's a great tool.
That's it for the moment!!
Love, Peace and Happiness!!
The TR13-Crew!