The Incredibles on Tour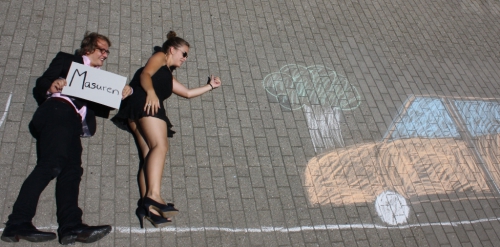 Two weeks through Europe by thumb. Why?
---
Why should a lift take us along?
---
Our best Autostop-experience so far
---
Our goal for the race
---
For a Donation we would...
---
Lena (29)
Julius (28)

Current Race Rank: 1
Current Route Rank: 1
"All my bags are packed, I'm ready to go" und es ist bald soweit:

Zwar können wir sagen, "Der letzte Sommer war sehr schön, I bin in irgendeiner Bucht g'leg'n" und auch "letztes Jahr war ich in Afrika, im Dschungel war es dunkel", aber dieses Jahr geht es nun "mit dem Schwert nach Polen" (oder vielleicht eher mit ner Buddel voll Rum?!)

Momentan ist es noch ein "One way ticket, one way ticket", hoffentlich aber nicht auf dem "Highway to hell".

Wir dachten uns "there's a place I know where we should go": Masuren!

Während unserer Reise fällt uns bestimmt des Öfteren ein "wir fahr'n, fahr'n, fahr'n auf der Autobahn" und "Reise, Reise, Seemann reise und wir freuen uns, dass bestimmt "all across the nation such a strange vibration" ist.

Es ist klar, dass nicht immer nur "ein bisschen Frieden, ein bisschen Sonne" ist und, dass "the bars are temples but the pearls ain't free" aber zur Not haben wir ja immer noch "ein Bett im Kornfeld".

Aber keine Sorge, wir wissen ja alle, "Liebe schmeckt wie Kaviar, Mädchen sind zum Küssen da", aber wenn wir dann nachts unter'm Sternenhimmel im Zelt liegen heißt es dann doch "tausendmal berührt, tausendmal ist nichts passiert".

Mamas, Papas, weinet nicht, wir sind ja bald wieder da; wir sagen "ich wollte immer weg von hier, obwohl ich dich so mag" und ihr werdet zuerst sagen "it's gonna take a lot to take me away from you", aber am Ende heißt es dann doch wieder nur "Schatzi, schenk mir ein Foto".

Im Laufe des Rennens denken sich bestimmt viele von euch "wish you were here" und so aber ihr wisst ja, "heute hier morgen dort" und wer weiß, vielleicht verschlägt es uns ja auch noch in die "streets of London".

"Whaddya mean? Ya seen one crowded, polluted, stinking town", und nicht vergessen,"es gibt kein Bier auf Hawaii, drum fahr ich nicht nach Hawaii."

Deshalb geht die Tour auch erst durch unser Heimatland, hoffen wir nur nicht, dass es am Ende heißt "bei Altona auf der Chaussee, da taten ihnen die Beinchen weh" oder auch "du hast den Farbfilm vergessen, mein Julius*, nun glaubt uns kein Mensch wie schön's hier war".

Aber auf's Erste: "Eeeeeeeeeeeeeeeey ab in den Süden" und "Hooray! Hooray! It's A Holi-Holiday "

*A. d. Hrsg: Name wurde geändert


Ticker messages
No messages sent yet...
Team Owner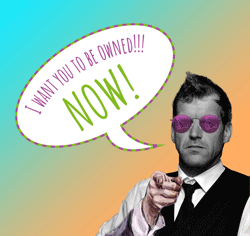 No Owner yet.
You can be a Owner after the donation process has been started!
Team Sponsors
You can be a Sponsor after the donation process has been started!