Kässpatzenbande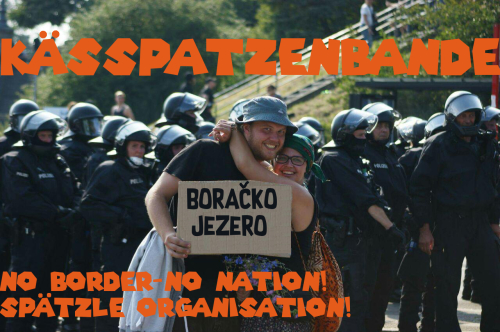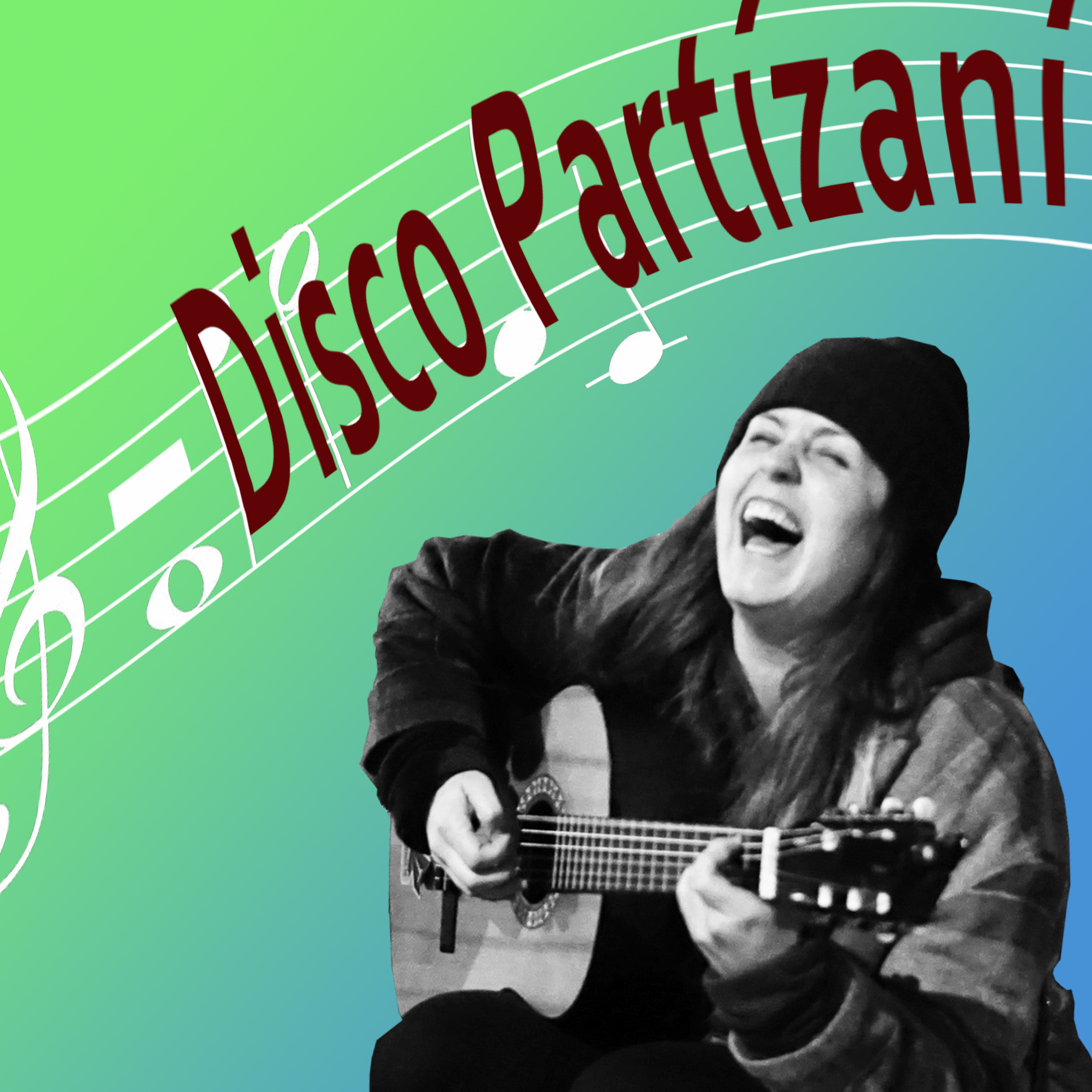 How far would you go to win a stage?
We would not hesitate to bribe potential drivers and rivals on the road with amazing Kässpatzen.
What shouldn't be missing in your hitchhiking-backpack?
Spätzlehobel Ukulele TAC and Wizard Game
Your Grandma's opinion:
Have Fun and don't forget to send a postcard. AND Never use the cheap cheese for the Kässpatzen!
You are ...
... hardcore experienced hitchhiking professionals
How do you imagine your final arrival to Boracko Jezero?
10kg fater by all the Kässpatzen we ate on the way.
Wiebke (25)
Jakob (28)

Current Race Rank: 18
Current Route Rank: 5
Kässpatzen connecting for a world without borders!

Spätzle [??p?tsl?] (Swabian diminutive plural of Spatz, thus literally "little sparrows", also Spätzli or Chnöpfli in Switzerland or Knöpfle or Hungarian Nokedli, Csipetke or Galuska) are a kind of soft egg noodle found in the cuisines of southern Germany and Austria, Switzerland, Hungary, Moselle and South Tyrol.

Käsespätzle: Spätzle mixed with grated cheese (typically Emmenthaler) and fried onion


Ticker messages


Team Owner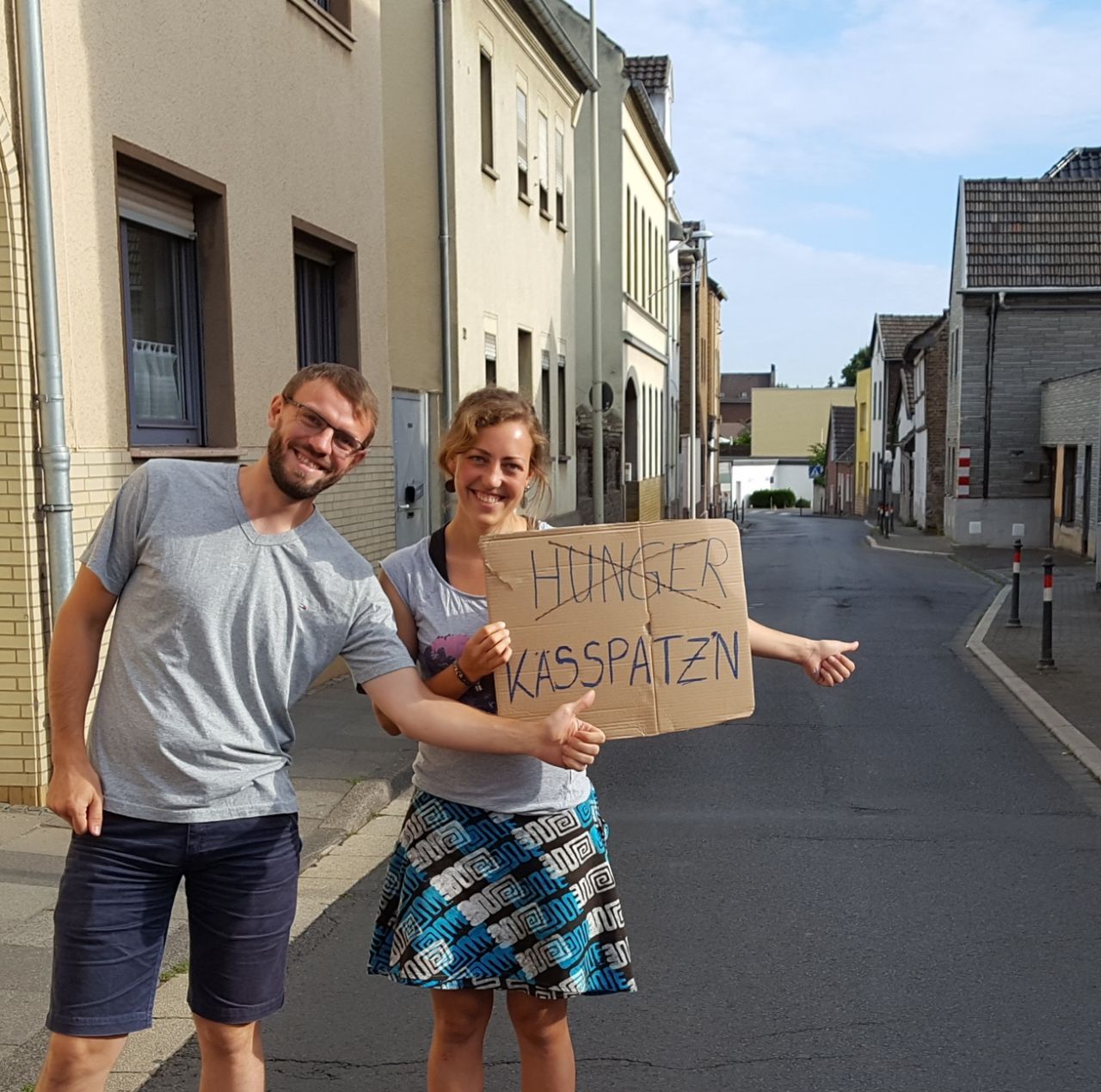 Matze & Jojo
Ihr schuldet uns die teuersten Kässpatzen der Welt :) habt Käse bereit wenn wir euch abpassen!
Team Sponsors
Charity Dinner
Kässpatzen for us, money for Seawatch!
Chrissy_Kitty
Habt Spaß ihr Lieben :)

#Hochzeitsschnäpse
Christine und Oliver Löwe-Krahl
Wir wünschen euch viel Glück, dass die Sonne euch nicht sticht und der Regen euch nicht durchnässt. Dass nur nette Leute euch mitnehmen und ihr trotzdem nie lange warten müsst; dass ihr immer einen schönen Schlafplatz findet, wo weder garstige Menschen noch lästige Ameisen oder hungrige Wildschweine euch vertreiben und dass ihr immer genug Käse und Nudeln habt, um satt zu werden. Und bei alledem: Viel Spaß!

Und wir wünschen uns eine Postkarte von irgendwoher mit einer Kirche drauf. Danke!
Die besten Geschwister der Welt
Alles Gute zum Geburtstag und so.

Viel Spaß beim Trampen.
Felix & Luisa
Danke für den Einsatz!!! Hoffentlich schmeckt's ;)
Flamingo & Viking
5/5 Kochlöffel. Wir lieben Käse.
FloAllgäu
Die Freiheit des Menschen liegt nicht darin, dass er tun kann, was er will, sondern, dass er nicht tun muss, was er nicht will.
Friederike
Gute Reise und tolle Begegnungen wünsche ich Euch. Kommt heile wieder ! Und auf die Postkarte von wo immer freue ich mich schon !


Hilko
Ballern Leute
HitchWitch hitchheike
Beste Bande <3 Merci für das Ständchen ! Und den nächsten Lift in Gedanken zusammen!!! Ich wünsche noch unfassbar viel Vergnügen Xx


Janni
Liebe Wiebke, lieber Jagge,

ich wünsche Euch unterwegs ganz viele schöne Momente. Ihr wisst wie sowas geht :)


Jonas (IT-Jonas)
Besten Dank für das leckere Essen !!!
Käthe & yannick
Hallo ihr zwei, wir wünschen euch viel Erfolg beim trampen und ganz viel Spaß beim hobeln :) kommt gesund wieder heim. Wir drücken euch die Daumen *küsschen*
Laura
Ein bisschen Geld verteilen ;)
Lisa und Mathis
Hey ihr zwei,

wir wünschen Euch ganz viel Spaß bei Tramping&Spatzing.

Passt auf Euch auf. Wir freuen uns auf die Postkarte, egal woher! :-)


Lüder
ich wünsche Euch, viel tolle Menschen, spannende Begegnungen. Als erstes ankommen und ein kühles Bier ;-) Viel Spaß
Löwenvater Baba Simba
Auf geht\'s Löwen trampen und siegen
Maike
Liebe Wiebke, lieber Jagge, ich wünsche euch tolle neue Eindrücke, schöne Begegnungen und ganz viel Spaß! Ich freue mich schon auf die Fotos und Reiseberichte in eurem Blog!
Mama Petra
Ma kutt nia dümmer hoim

wia dass ma futt isch


NordischByNature
Orga-Team
Ihr seid hiermit unsere Versuchskaninchen für den Spendentool. Greeeets!
Peter
Viel Spaß! Und schreibt mal ein paar mehr Tickermeldungen und Blogbeiträge über Eure grandiose Renn-Performance! Und Postkarten!!!
Rambazamba
Yummiest spätzle:)
Ronzo
Wünsche einen guten Endspurt euch beiden.
Sarah Schöni
Servus ihr zwei,

Ganz viel Späße euch beim Trampen:) Ihr dürft frei wählen von welchem Land ihr mir eine Postkarte zukommen lasst. Ich lass mich überraschen.

Freu mich auf ein Wiedersehen,

Ganz liebe Grüße von Balkonien in München
Tobi
Hey ihr Zwei! Habt ein cooles Rennen, nette Fahrer-innen und vor allem immer genug Käse :)
4 Anonymous Sponsor(s)
You can be a Sponsor after the donation process has been started!