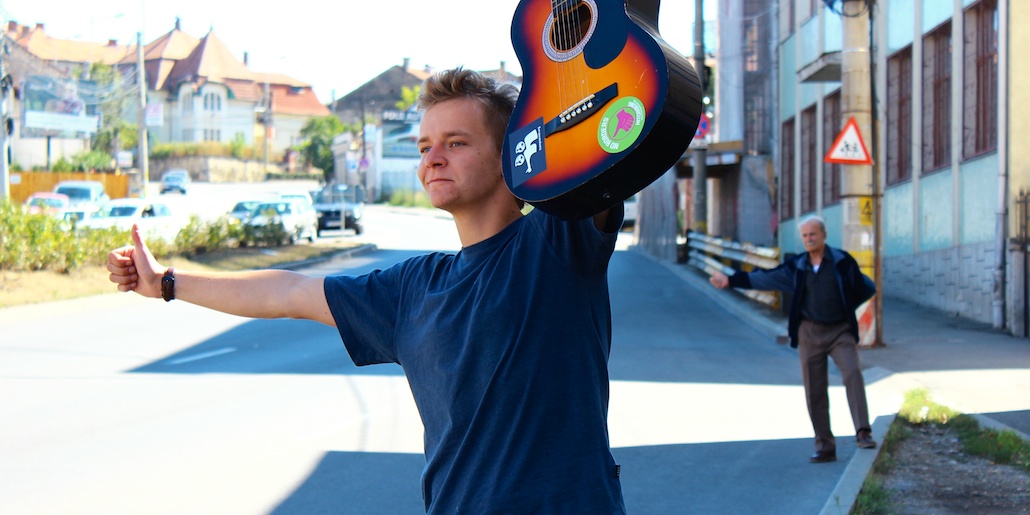 What´s Tramprennen?
Tramprennen is an annual hitchhiking race organized by Club of Roam-Autostop! e.V. since 2008, in which over 100 go-getters hit the road using their thumbs. The competition takes you through Europe at the end of summer (Mid/End August), and during the two weeks scheduled for the race there's plenty of room for spontaneity and discovering different cultures, both within the race and in the ever changing settings of the race.
Competing with old and new friends on who can beat who, and what that person then has to do, are funkylicious activities that everybody can enjoy, but the race is so much more than just a fun and friendly competition. It's not just about passing through the places as fast as possible, but also taking the time to meet different people with an open mind and discover a new culture together. It's an opportunity to promote such funktastic values as: friendship, transcultural exchange, social engagement and obviously the sweet, sweet art of hitchhiking.
Likewise, with fundraising and creation of awareness taking place both before and during the race: Tramprennen is also a big contributor to the projects of Sea-Watch e.V.
Goals and Mission
We want the race to be as awesomazingly open to everyone and for people to be able to share the laughs and stories we experience on the road, not just among the competing hitchhikers, but with everybody who's a part of the race, never to forget the Big D's: Drivers & Donors.
Thus, we aim to promote the art of hitchhiking as a valuable means of transportation, with social possibilities reaching far beyond what you would ever get from taking any bus to anywhere.
 So thank you again for making this possible, without your help, our mission of doing something nice in a fun way, would be a lot more difficult.
Thank you also for having the patience to read about Why we have this youthful idealism, now we'd like to tell you a bit about When and Where it all started.
How does it work?
Hitchhikers get into teams of 2 to 3 people. They then choose one of the different routes of the race, consisting in 6 stages between different towns for a total distance of around 2000 kilometers. Each route hosts 9 to 10 teams, which adds up to 20 – 30 people. For each completed stage, teams get points depending on their ranking. Fair play between teams and special actions during the stages are also encouraged by giving extra points.
For the last stage of the race, all routes are meeting at the same place to celebrate the end of the competition and its winners, being the teams with the highest scores.
There's no prize to be won apart from the reward of accomplishing the trip all together, and standing in front of a 100 people happily cheering you as the winner of something incredible you never imagined being a part of.