Tramprennen 2018 – Review
Now, while summer left and winter is knocking at the door, we're looking back with some tears in the eyes but a big smile on the face and remember a tremendous Tramprennen 2018. After going to Lithuania in 2017, we decided to go back to the warmth of the Balkans and chose Bosnia and Herzegovina as this year's final destination. In contrary of last year's large and overflowing backpacks with all of the warm stuff the wardrobe provided, this year we could concentrate on the important things like Juggling stuff, swimwear, Sunglasses and Adiletten.
While Erfurt approved last year as a good starting point in central Germany we decided to stick to it this time. To endorse the cosmopolitan attitude of Tramprennen we arranged further starting points in Switzerland and Austria. While the route from Graz started right at the front door to the Balkans, Zürich wasn't well-favored and we had to cancel it. However, Alex and Tony insisted on taking part in Tramprennen 2018 and visited every route with their Hippie-Bus. Big thanks at this point for the warm welcome with cold beer and a fun treasure-hunt for every route with a big donation in the end.
Almost 100 motivated hitchhikers hit the Balkan roads to seek for a remarkable time, great adventures and the big win of Tramprennen 2018. Moreover, we showed that hitchhiking works and that it is not just an extraordinary way to move across a continent but that it makes a dialogue possible, despite all language, over economic, social and cultural barriers.
On the way, we witnessed adventures we could not imagine beforehand. Getting your backpacks locked together and be enforced to perform the Las Ketchup Song in the middle of the Montenegrin Mountains, to get involved in a Cow-Threesome, to inaugurate the big fountain on Belgrade's main square as a public pool. We met great people in Bavaria, that organized a BBQ just for us and experienced the Bosnian hospitality with selfmade booze and Sea-Watch-Soli-Kässpätzen.
…and finally, to get naked and jump into the water. The catchphrase "it's still a Race" wasn't a hollow phrase on the very last stages. On all routes the first places were hard-fought, Teams were battling each other in private Races and the Ranking was so close at the end, that the overall winners didn't know their victory until they've been announced at the final ceremony. Congrats to "Und plötzlich der Daumen" for an incredible hitchhiking-performance! You truly are Queen and King of the road!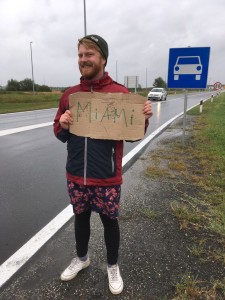 The last days of Tramprennen 2018 faint (and maybe not completely sober) idea of shaving some beards made rumors and peaked at the final ceremony in a mass shaving. Almost 20 young men tried to equal their big idols like Mario (the Go-Kart Driver), Hulk Hogan, Freddie Mercury or Borat. The idea wasn't only to look gorgeous but to raise more money.
This year, we decided to raise money and awareness for Sea – Watch e.V. because the issue of civil sea rescue is unfortunately still topical and the Tramprennen values are inextricably linked to the same Ideals: To stand up for legal escape routes and the removal of the root causes of migration and flight. We are very happy to support the eminently important work of Sea – Watch with amazing 12.000€. A big "Thank you" to all the lovely people that contributed to this years Tramprennen as participants, team-sponsors and team-owners.
But there are more people we need to thank. All those that supported the organization and planning of this years Tramprennen. At the premeetings, starting points or the final ceremony, designing and layouting, printing T-shirts or packing the hitchpackages, without your voluntary work organizing the Tramprennen would not be possible. If you want to support us next year and contribute your own ideas to the world of Tramprennen contact us at gro.nennerpmartnull@ofni and stay tuned.
At the very end we want to say Thank you! Hvala! Danke! Köszönöm! Děkuji! To all of our lifts and the people that welcomed us on their way in into their homes!
https://tramprennen.org/wp-content/uploads/2014/05/logo3.png
0
0
Felix
https://tramprennen.org/wp-content/uploads/2014/05/logo3.png
Felix
2019-02-06 14:07:59
2023-05-30 15:47:41
Tramprennen 2018 – Review